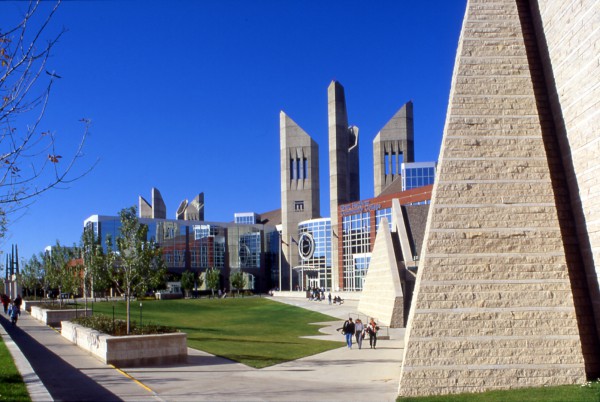 A new community college is situated on former railway lands north of downtown Edmonton. To stimulate future development in this area, a 16 block master plan included the college in a central 6 block parcel, with mixed use housing and commercial initiatives along a linear, landscaped urban perimeter.
The campus vision extended the existing street and lane axes into the site as if the railway had never existed, thereby connecting neighborhoods previously isolated from one another. The formal city block paradigm thus re-established, a central internal east west pedestrian axis was superimposed – thus creating nodes and meeting places at street intersections, expressed by vertical concrete towers. These 'village squares' provide campus markers, points of orientation, meeting and gathering space, plus central system infrastructure including major service stacks for air intakes and exhaust. These nodes contrast the three storey collection of buildings along the street and give the campus its overall distinctive texture and civic presence.
Each block contains a different academic program – science, recreation, visual and communication arts and business, all stitched into a clear multi block circulation pattern of internal main street and multi-storey skylighted atrium side lanes; each terminating on a natural light source, keeping people in constant visual contact with the outdoors.
The nucleus of the college (now MacEwan University) is the Learning Resources Centre, consisting of library, computer centre, information services and purchasing. This is the academic spine of the institution, spanning two floors over two full city blocks, connecting all three village squares and providing access to all departments along its length.
The 'Oxbridge' model of gothic architecture, as an architectural influence – was a particular requirement of the College President and its Board. Stylistic interpretations are apparent as are regional forms, from the soaring 'nave' of the Learning Resource Centre to the jagged, mountain shaped lecture hall cluster overlooking the entry common. Flexible, daylighted theatre space, local materials, a high performance envelope and an underground thermal storage tank contribute to reducing the campus energy consumption to better than 35% compared to conventional buildings.
The project was a joint venture between Barry Johns Architects, Wood O'Neill O'Neill Architects and Wensley Webster Fry Rodrigues Architects with BJ(A)L as Partner in Charge of Design.