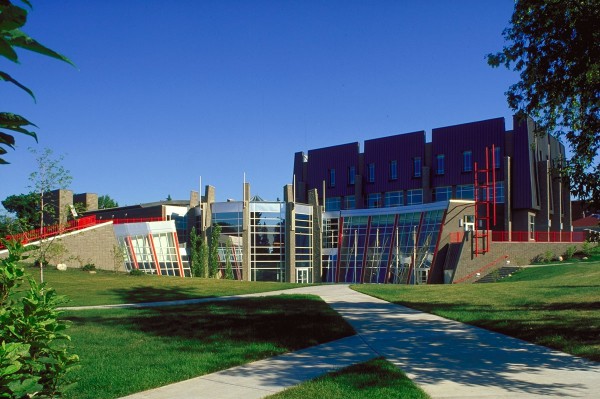 This Centre Communautaire is located in a francophone neighbourhood in south central Edmonton. Single family houses and seniors' apartments border two sides of the site with Le Faculté St-Jean, the french language liberal arts faculty of the University of Alberta to the west.
The francophone community in Alberta had been trying to build a cultural place for over fifty years. Input was received from people of all age groups and cultural interests. In respect of such diversity, the design evolved around eclectic but cultural imagery: the magnificent chateau of Renaissance France, the Place des Vosges in Paris and the stone walls, pitched roofs, tin clad dormer windows and crenellated stone ramparts of Quebec City. In addition, the work of Cormier and the front porch, verandah and curved roof of the indigenous francophone regions of north eastern Alberta were all identified as meaningful references by the community. The project assembles these images in a village-like setting, incorporating community, cultural and commercial services for all ages.
Included in the program is a library, arts and crafts room, meeting rooms, café, daycare, seniors' area, commercial offices, a bank and a 225 seat multipurpose theatre. Different functions are expressed in separate building blocks, responding to the varying scale of the surrounding streets. The building together with the sloping site, creates sheltered, defined outdoor rooms and recreation space.
One of these spaces, the 'Place d'Accueil' or welcoming place, is both an outdoor plaza and indoor rotunda. Surrounded by a sloping glass face and perimeter grass berm, the outdoor room is a venue for the frequent festivals, street dances and skating parties that typify the festive life of this community.
The large spaces required for the theatre and multipurpose rooms are cut into the slope of the site and covered by a green roof. The entrance rotunda is linked to food services and lounges along with a special needs area for seniors and access to Le Carrefours, the main bookstore of the neighborhood.
The multipurpose courtyard theatre with two balconies and a technical gallery, has a flat floor and retractable bleacher seating. Backstage is a second multipurpose room which, when opened to the theatre, becomes a larger gathering space that is used for dances, wedding receptions and community events. It is a major daylit space, fronting onto a sunken courtyard on the residential street.